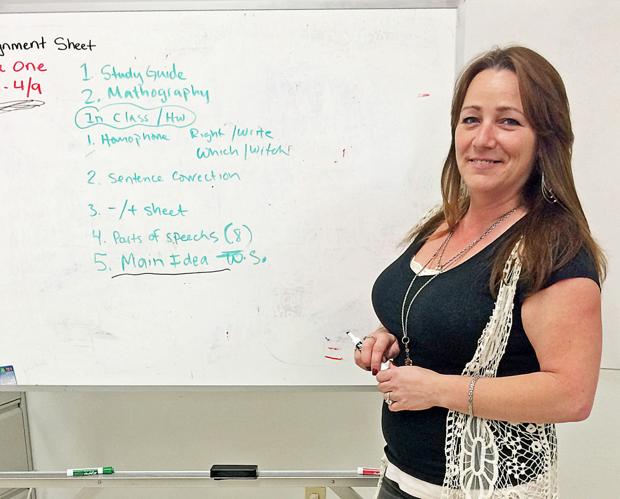 Gina McConnell-Otten turned 12 the day she ran away to escape her abusive home in Lake Stevens. She was 15 when she got addicted to cocaine and 29 when she served her first sentence in a Washington state corrections center on 17 felony counts for drugs, forgery, possession of stolen property and identity theft.
She later served another seven years on similar charges.
That was then. Now, the 45-year-old AmeriCorps volunteer has turned her life around by giving back to her community, staying free of drugs and setting an example for others that there is a chance at a productive life after prison.
"It doesn't matter what prison you walk into in the state of Washington, they all smell the same and that's the smell of a lack of hope," said McConnell-Otten of Kalama.
She's currently a teacher in Longview's Goodwill Industries' job and education training program and has spent the past three years stepping back into jail — this time, as an volunteer advocate who encourages female inmates to pursue a college education after they serve their time behind bars.
"I do it because it reminds me of my purpose. I'm tired of seeing young people come in and out of the prison system. I do it because my best friend in prison told me to go out and be her voice," she said.
McConnell-Otten has volunteered with the Post-Prison Education Program since the day she exited work release in 2011.
The Post-Prison Education Program, a Seattle-based nonprofit, helps provide its participants access to post-secondary education by helping pay for tuition, housing, groceries, daycare and mentoring.
McConnell-Otten goes to Washington's two women's prisons every other month and shares her story with inmates of overcoming addiction and a life of crime.
She also volunteers with the "What If" project, an initiative that provides opportunities for law enforcement officers and ex-convicts to talk to at-risk children and help them avoid entering the juvenile justice system.
She said her passion for letting others know they are worthy and capable of success in life after spending time as an inmate developed after she experienced being judged solely on her criminal record.
"I remember during my first prison sentence a judge told me I was a waste of air, a menace to society, that I would never amount to anything and that I wasn't worth the space my body was taking up," she said, adding that when she left prison for the final time in 2011, AmeriCorps was the only agency that would hire her.
"I don't even remember who that Gina was anymore. I was the scariest person I knew," she said of the years she spent using illegal drugs and committing crimes.
She said getting an education after her release was the key in restarting her life.
She attended Seattle Central Community College in 2011 and was 12 credits away from getting her bachelor's degree in juvenile justice prevention. She said she didn't finish her degree because she got married, but plans to resume studies her degree this September at Everett College.
She said it's gratifying to teach the students at Goodwill and be a positive role model.
"Most of the kids here have backgrounds with parents who've gone to prison, so they can relate to me. I don't sugarcoat anything and I tell it like it is, but they respect me for that," she said.
Paige Frazer, 20, a Goodwill student, said McConnell-Otten inspired her to pursue additional education after she was released from a one-year drug rehab center in 2014. Frazer said she spent one year in treatment in lieu of a 24-month prison sentence for two felony drug convictions she received in 2013.
"Gina gave me hope. She told me she also used to be a drug addict and showed me that I can help other people. That's what I want to do. I want to help younger kids not get to the place I was," Frazer said, adding that having an education has boosted her self-esteem after she dropped out of high school during her sophomore year because of her drug habit.
"Having an education would make me have more self-confidence. It would let me have a job," she said, adding that she has only two more tests to pass before she can receive her G.E.D.
Carl Cecka, Goodwill's vocational services manager, said McConnell-Otten's work has changed the lives of her students.
"She shows them that it doesn't have to be the way you think it has to be and that you can make your own future. They know they have options now after working with Gina, and that's empowering," he said.
*Article from The Daily News. Written by Shira Moskowitz.