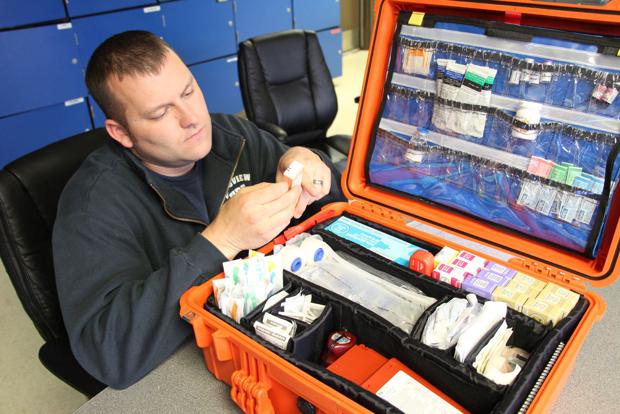 Longview firefighters have another life-saving tool at their disposal after getting clearance to equip every firefighter with an overdose-countering drug.
Starting this week, all firefighters will get full training on the use of Naloxone, which reverses the effects of both legal opioid painkillers such as Vicodin and oxycodone and illegal opiates like heroin.
Only highly trained paramedics were previously allowed to use Naloxone, but now emergency medical technicians — and all firefighters — also can administer the emergency medication.
"That allows firefighters to get there first, and instead of waiting to administer care, they can do it pending the arrival of paramedics," Battalion Chief Eric Koreis said.
Cowlitz County leads the state in the rate of deadly opioid overdoses, and overdose emergency calls are common.
Longview Fire responded to 58 overdose cases in just the first quarter of 2015, according to Koreis.
Legal opioids are prescribed as painkillers but are often abused, and heroin use also is widespread in the county.
The drugs depress the nervous system and can stop breathing. Koreis said that administering the counter-overdose drug as fast as possible can be crucial for preventing brain damage or death.
It's also important for witnesses to call in an overdose as soon as possible.
The state Department of Health cleared the way for EMTs to use Naloxone late last year, and the fire department's medical director, Dr. Marc Kranz, gave the final green-light last week.
"Expanding the use of Naloxone will lead to increased survival rates and will give patients the potential for long-term recovery and a second chance at life," Koreis said.
*Story from The Daily News by Brooks Johnson.